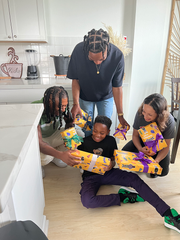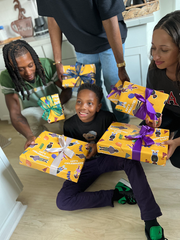 Let's Celebrate Gift Wrap Wrapping Paper
Elevate your gift-giving with our African American Kids Let's Celebrate Gift Wrap. Designed with love, this all-occasion wrapping paper puts African American kids in the spotlight. Why? Because every child deserves to see themselves celebrated, cherished, and represented. Add that special touch to birthdays, milestones, or just-because moments with a wrap that doesn't just cover a gift but unfolds a story. Let your young ones unwrap joy, pride, and a reflection of their beautiful heritage. Celebrate every moment, every achievement, every giggle. Celebrate them with gift wrap that truly represents. 
Mah Melanin: Representing today's Melanated households with authenticity and pride.
Also available: our Ken, The Black Santa - Remix Gift Wrap and  Ken, The Black Santa Gift Wrap
Measurements: 24" X 120" (can wrap 6 to 12 gifts or more, depending on the gift size)
Unit Size: 1
 Ken, The Black Santa and the Kulture Kids images are protected by copyright laws.
Great Quality
I ordered 2 rolls of this paper in 2021 just decided to use it this Christmas. This paper is easy to crease and doesn't rip easily. I'm going to order for 2023.
Wrapping Paper
BEAUTIFUL PAPER..WILL ORDER OTHER ITMS
Wrapping Paper
This was beyound my expectations. I love the wrapping paper.
My family Son, daughter-n- law and grandchildren was loving the paper along. I will be ordering again.
Thank you.
This paper is great you can use it all year round. I was so excited to wrap my grandchildren gifts in this year. I will be using more.
Perfect for any occasion
This gift wrap is perfect for any occasion. I love how detailed it is and the paper is super thick!