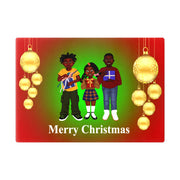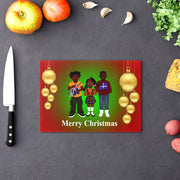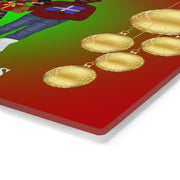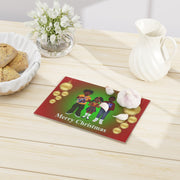 Kulture Kids Glass Cutting Board
This beautiful tempered glass cutting board would serve as a great addition to your kitchen, leaving your guests in Awe. The Beautiful Kids glass cutting board would definitely be the topic of your next event.  
Measurements: 8" X 11"
Material: Textured Tempered Glass
Unit Size: 1
 Ken, The Black Santa and the Kulture Kids images are protected by copyright laws.
Bright Colors
When I opened up my product and saw these beautiful young kids I was in awww. This cutting board is of great quality and very thick. The only problem is I just can't cut on it because it is to adorable. So what I do is place it on my counter at Christmas time to add to my decorations in my kitchen. I received so many compliments on it I just found not put a knife near it. I absolutely love it. Try it, I promise you that you will understand exactly how I feel. Best purchase ever. Highly recommended